Anyone who knows me will know I love spiced food. This is not something I grew up eating as my own mother cannot bear heat in her food, nor is it attributable to my time working overseas as my love of all things spicy happened years before that. No my love of spice comes from within me and I simply could not go through an entire week without spiced food of some sort at least once! I recall an Indian work colleague complaining about his mother coming to stay with him and cooking all the time. I told him I couldn't see what his problem was and said I'd happily have offered her a room had my flat been big enough at the time. I'd have taken a week's holiday just to watch the woman cook!
This is a really quick mid-week curry and in place of spinach I've added curly kale which is a vegetable that is trending right now. Kale is something I grew up with, I used to eat it raw straight from my Dads garden. I fear I may have reached an age where the food of my childhood is now fashionable again!
potato, chickpea & kale curry
Print recipe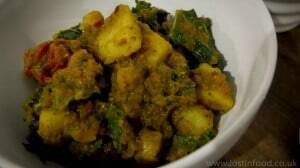 Ingredients
6 medium sized potatoes (peeled and diced)
1 onion (peeled and quartered)
5 cloves garlic (peeled)
5 cm fresh ginger (peeled)
2 red chilli (for less heat deseed and remove vein)
1 large bunch fresh coriander (leave some of the stalk on)
2 tbsp sunflower or vegetable oil
1 tsp cumin seeds
1 heaped tsp ground cumin
1 tbsp ground coriander
1 tsp ground turmeric
1 tsp ground cayenne pepper
400g tin chickpeas (drained)
400g tin plum tomatoes
200g curly kale (washed and stalks removed)
Directions
Place the diced potatoes in boiling salted water and cook for 5 minutes or until tender, drain and set aside.
Put the onion, garlic, ginger, chillies and fresh coriander into a food processor with 2tbsp water and blitz into a paste. Heat the oil in a large frying pan and add the cumin seeds, sauté over a medium heat for 1 minute until the flavour is released then add the paste and gently sauté for 5 minutes until it has softened and the water reduced, taking care not to colour it. Stirring continuously add the ground spices and cook over a low-medium heat for a further 3 minutes.
To the pan add the potatoes, chickpeas and tomatoes, stir well to combine, then cook for a further 5 minutes over a low-medium heat. Add the kale to the pan and allow to wilt. Serve the curry with naan bread or chapatis and some plain yoghurt and chutney.
Note
This recipe can also be made using either diced chicken breast or chicken thighs if you would prefer a meat option.  Add the chicken after the ground spices have been added.
0