Christmas is a time for traditions. The recipes that have been passed down through generations to always bring a smile to my face. This tourtiere (Cape Breton Meat Pie) is no different. 
I've included two recipes in today's post which have been long standing traditions for my family at Christmas time. Every Christmas Eve my Mum would make an Acadian Tourtiere (or meat pie as we like to call it), a lightly spiced and herbed pork pie, wrapped up in a crisp pastry crust. It was tradition in our house growing up that my large family and our friends got together to exchange and open presents on Christmas Eve before attending midnight mass. These pies (yes there was always multiple!) would be warmed and we would help ourselves to it with salad and some tart pickles on the side.  Even as we got older and moved away from home my mum still kept us in a supply of meat pies for the festive period, only once I moved too far away that I began the tradition of making it myself.
The second recipe is for my Mum's turkey stuffing and I still remember the smell of the stuffing cooking on Christmas Eve. My mum always made her own stuffing and my brother and I would fight over who was going to be the chief taster! The base of the stuffing is mashed potato, with added onions, breadcrumbs, seasoning and butter, you then let it steam away. The seasoning mix is called "Poultry Seasoning" and to me its Thanksgiving and Christmas in a jar. You can buy the seasoning on Amazon, but it is quite expensive, I always bring some back with me on trips home. Poultry seasoning is a blend of savory, sage, rosemary, thyme, marjoram and nutmeg.  It's a versatile seasoning, I've used it in both of today's recipes and it goes well with both poultry and pork.
Acadian pork pie filling (Tourtiere)
Ingredients
2 large onions (diced)
2-3 tbsp poultry seasoning (see post above for more info)
salt & pepper
2-2.5kg pork shoulder (trimmed)
Directions
Trim the pork of the rind and any large amounts of fat, leaving some of the fat to flavour and keep the meat moist.
In a large pan add the pork, diced onions and water to cover half of the pork. When the pork starts to break down (about 1 -2 hours) add the poultry seasoning, salt and pepper. Continue to cook for a further 1-2 hours, adjusting seasoning to taste and keeping moist with water so as not to dry out or burn.
Note
You can freeze this filling in portions for use at a later time, but do not refreeze the pie once made up.
We've used this filling with a hot water crust pastry but have also in the past used a ready rolled puff pastry as a top for this filling if feeding a crowd or rushed.
potato stuffing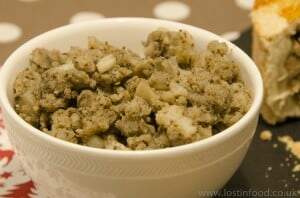 Ingredients
2kg potatoes (mashed)
2-3 onions (finely diced)
3-4 Tbsp butter (melted)
2-3 Heaped tsp poultry seasoning
salt & pepper (to season)
Directions
Boil potatoes in salted water till cooked, mash and set aside to cool.
Once potatoes are cooled, add all the other ingredients.
Place in an oven proof dish and bake in a low oven (approx 150 degrees) for 2 hours.
Note
Taste as you go as all ingredients are cooked and you can then adjust seasoning if you want to add more. (I like quite a lot of the seasoning mix but it may not be to everyones taste so I've started with small amounts).
hot water pastry
Ingredients
225g plain flour
pinch of salt
25 ml milk
25 ml water
75g lard
1 egg (beaten)
Directions
Sift the flour into a bowl and add the salt.
In a small pan measure out the water, milk and lard. Warm until the lard melts. Allow to come to the boil and immediately remove from the heat.
Add the milk mixture to the flour and immediately bring together with a wooden spoon. Take out onto a lightly floured work surface and working quickly cut the dough into 2 portions, one slightly bigger than the other.
Using the larger piece form into a ball and roll gently to form the bottom of the pie. Place into a 6 inch tart / pie dish and using your hand continue to work the dough up the sides of the pan and just slightly over the edge. As the dough is warm it will be quite pliable.
Fill the pie with your chosen filling and then roll out the lid using the smaller piece of dough already cut. Use an egg wash around the rim of the pie before adding the top to allow the pastry to seal. Crimp the edges to seal and make a small steam hole in the top.
Brush the egg wash over the pie and bake for 30 minutes in an oven at 180 (160 fan)
This recipe has been included in the Cook Blog Share linkup, well worth a visit to get some more great recipes from fellow food bloggers.
0