As we approach the Easter break we both feel the need to slow down and take life that little bit slower! Lazy days coupled with  slow mornings where we lounge around are ideal for an extra special brunch. These are the kind of weekends where the weekday bowl of cereal or slice of toast just isn't going to cut it! Frequent readers of this blog will know, we love a good brunch dish and this cornbread and corn salsa coupled with an avocado dill cream and runny free range poached really hits the spot.
Now ask our children and they are all happy with a pile of pancakes together with maple syrup and bacon on the side, however we wanted to do something a little more attuned to our adult palettes. Inspiration for this dish comes from a brunch we had on a trip to London. The corn bread can be made ahead and in fact freezes really well, so make double the bread and freeze some for next time! The corn salsa is vibrant with a lovely mild hit of chilli (equally you can add more if you want to crank up the heat) and works perfectly with the bread.
Finally as with most of our brunch dishes – to the egg! What would Easter be without the egg? Before you decorate your boiled eggs ready for rolling, set aside a few to poach and place on top of the salsa, allowing the creamy yolk to run right through it onto the bread below. Brunch perfection on a plate!
And the best part, if you're not driving we can recommend washing it down with a Bloody Mary! Cheers!
corn, salsa, avocado, egg, brunch
Print recipe
Ingredients
2 slices toasted cornbread (per serving)
1 free-range egg poached (per serving)
sprinkle of La Chinata smoked paprika flakes
corn salsa
340g tin sweetcorn (drained)
2 large tomatoes (diced)
1 banana shallot (finely diced)
1 red chilli (de-seeded and finely chopped)
1 large handful coriander leaf (finely chopped)
3 tbsp sunflower oil
1 tbsp sherry vinegar
juice of a lime
1/2 tsp caster sugar
1/2 tsp each salt and pepper
avocado cream
1 large ripe avocado
2 heaped tbsp creme fraiche
2 tbsp chopped dill
1/2 tsp salt
Directions
Place the sweetcorn, tomato, shallot, chilli and coriander in a bowl. In a separate bowl mix together the remaining salsa ingredients, mix well to form a dressing and pour over the sweetcorn mix. This stage can be done a day in advance and kept overnight in the fridge.
Place the avocado and creme fraiche in a bowl and mix together with a stick blender, add the dill and season with salt and further blitz to a smooth cream.
Toast the jalapeno corn bread and place on a warm plate. Spoon over some of the sweetcorn salsa and plate some of the avocado cream to the side.
Place 2 poached eggs on the plate and sprinkle with La Chinata smoked paprika flakes (or smoked paprika if you don't have the flakes). Serve immediately.
jalapeño cornbread
Print recipe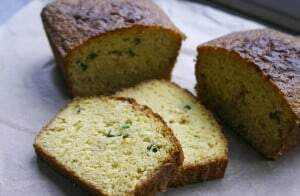 Ingredients
50g maize flour (we used Suma organic)
50g polenta (we used Suma organic)
100g plain flour
3/4 tsp sea salt
1 tbsp baking powder
75g caster sugar
2 large free range eggs
150 ml buttermilk
4 tbsp sunflower oil or light olive oil
200g creamed sweetcorn
3 medium jalapeño pepper (finely chopped, remove seeds or leave in, depending on the level of heat wanted)
Directions
Preheat oven to 180 Fan. Lightly grease and line a 2lb loaf tin.
Sift all the dry ingredients together in a large bowl. Beat eggs, buttermilk & oil in a separate bowl and pour mixture into dry ingredients. Fold through. Once you have a batter consistency add the creamed sweetcorn and chopped jalapeños.
Pour batter into prepared loaf tin. Bake for 30-40 minutes until skewer inserted in the middle comes out clean. Remove from oven, allow to cool for 5-10 minutes before removing from tin. Serve warm or allow to cool and toast slices when serving.
This recipe has been included in the Cook Blog Share linkup, well worth a visit to get some more great recipes from fellow food bloggers.
7