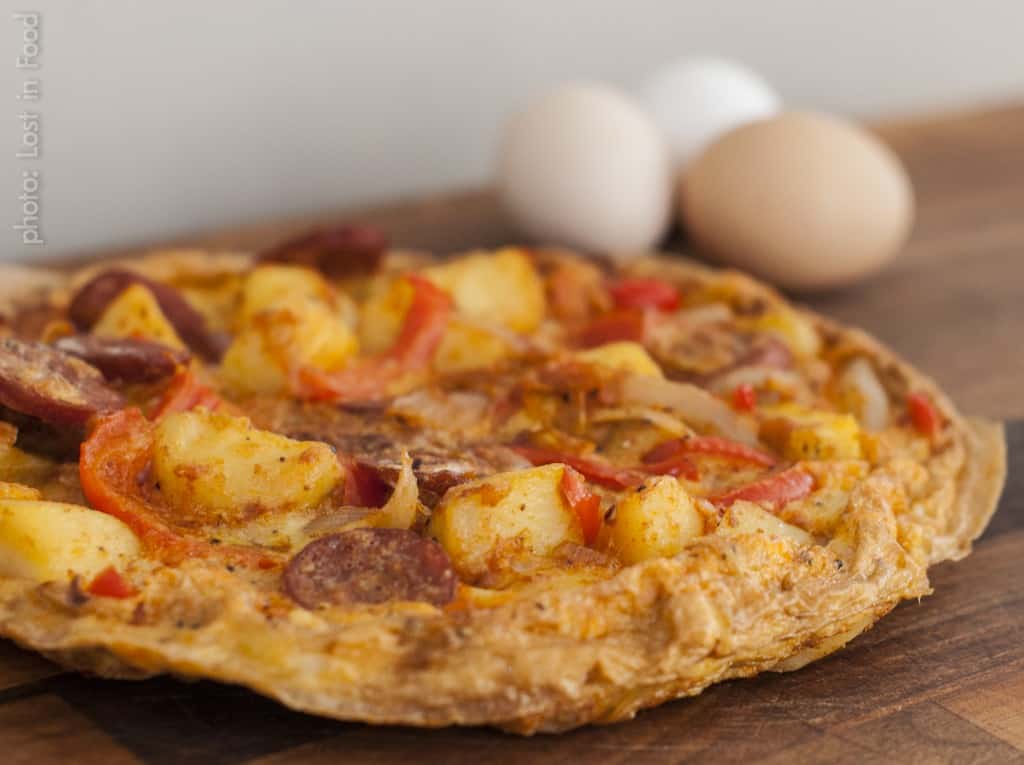 Michelle has recently become the proud mother of a brood of hens: Cotton, Thatch, Pebbles and Sugar. These lovely creatures are young and proving to be very efficient layers. Now I'm not a fan of birds pecking around my feet (we had chickens growing up), however I'm not averse to the eggs! Michelle turned up at my house today with a dozen eggs for me so it was only fair that I make her lunch, a chorizo tortilla. These can be eaten hot or sliced up cold and to be honest you can add anything you like. This particular recipe is a favourite mid week supper in our house, particularly on a busy night when time is limited. There really is nothing like fresh lain eggs, which is why I kept the really big one all to myself for later in the hope that its a "double yoker"!
chorizo tortilla
Print recipe
Ingredients
2 tbsp olive oil
1 small onion (finely sliced)
1 red pepper (cubed)
2 cloves garlic (crushed)
80g chorizo (sliced)
1 tsp smoked paprika
3 medium potatoes (peeled, diced and boiled in salted water until cooked)
3 large eggs
salt & pepper
80g cheddar cheese (grated)
Directions
Pre-heat the grill in your oven to a high setting.
Heat the oil in medium sized non stick frying pan, add the onions, red peppers, garlic and chorizo and saute gently over a medium heat for 5 minutes until the onions have softened.
Add the paprika, salt and pepper and continue to saute for a further minute. Add the diced cooked potatoes and continue cooking until the spice is well combined.
Place the eggs in a bowl and season with salt and pepper. Add the eggs to the chorizo and vegetables and take care to cover completely with the egg mixture.
Sprinkle on some grated cheese and place under the grill until cooked through and nicely browned. Serve either hot or cold in large wedges.
Note
This is a versatile recipe and one that is easily adapted, feel free to add any vegetables you have in the fridge. Leave out the chorizo if  making for vegetarian friends or if you fancy a meat free day. The recipe uses smoked paprika but we often substitute with hot paprika as egg works really well with a good hit of spice.
0