One vegetable that I love to eat, but find almost impossible to buy in the shops here is the Jerusalem Artichoke, or fartichokes as my children call them before dissolving into hysterics (they do given you a windy tummy)! For the last two years I've grown these at the back of my raised bed and I have a good harvest during the Winter months, when there isn't much else growing.
I'm a keen gardener with a new found love of growing vegetables. I'm not an experienced vegetable grower but what I lack in experience I make up for with enthusiasm and over the last two years I've grown a surprising amount in my small 1mx4m raised bed and the various pots that surround it.
Now these gnarly little tubers are not going to win any beauty pageant, but boy do they taste good, somewhere between an artichoke and a really good potato. I've roasted these tubers along with other root vegetables, and they make a really mean gratin. However today I've decided to use up the last of this years crop making one of my favourite soups, simply done, but a bowl of comfort that I've enjoyed for years.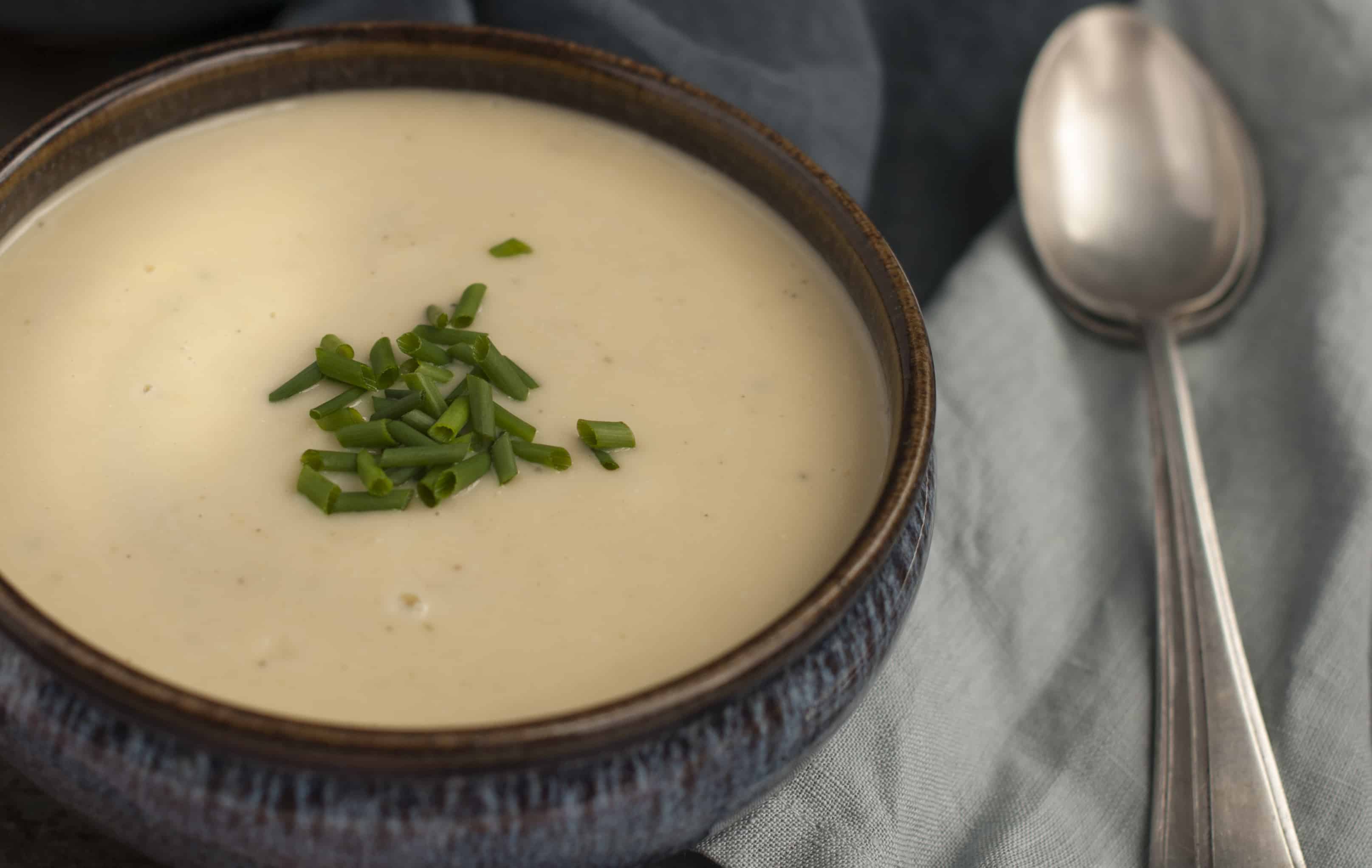 If you decide to grow your own, be warned, they are invasive! I clear the bed thoroughly every spring and throw back in a few tubers for next year's crop. This year I've passed on some to Michelle so she can grow them too.
Jerusalem artichoke soup
Print recipe
Ingredients
50g butter
1 large onion (chopped)
2 sticks celery (chopped)
1 clove garlic (crushed)
600g Jerusalem artichoke (peeled and chopped)
400g potato (peeled and chopped)
1 ltr vegetable stock
150g double cream
salt and pepper
Directions
Melt the butter in a large saucepan over a medium heat and gently saute the onions for around 5 minutes until soft. Then add the remaining vegetables and continue to saute for a further 2 minutes, taking care not to brown the vegetables.
Add the stock to the pan and simmer gently until the vegetables are soft. Using a stick blender blitz the soup to a smooth consistency stir through the cream and season with salt and pepper.
Note
We have mixed Jerusalem artichokes with potato for this soup as we had a limited amount of artichoke. If you have an abundance of Jerusalem artichoke then please feel free to use only that and leave out the potato.
We are linking up this post to Cook Blog Share, so check out the link for more great recipes from other bloggers!
4