There is little that I enjoy doing more than eating outdoors with my family. Whether it's a picnic, lunch on my patio or a barbeque on the beach, I'm rarely happier. As much as I love to eat outdoors, I also love to cook outdoors. Furthermore I'm not someone who needs the sunshine in order to get the barbeque going, that said it does help!
I created this very simple barbeque dish for my youngest daughter who previously would not eat any barbequed food. She used to be a very fussy eater, thankfully this is no longer the case. However, she would always eat chicken and has never been afraid of spice. Therefore I kept things simple, using a few of her favourite flavours (and mine too).
These chicken kebabs are very quick to prepare which is why I like to make them when cooking outdoors on our family camping trips. I place the marinade and chicken into a ziplock bag ready for cooking wherever we decide to set up the barbeque, whether on the campsite or the nearest beach.
When cooking away from home I find the less fuss the better. For me it's not about being particularly elabourate, more about just enjoying the fresh air and the company of the people you're with. It's even better if your chosen spot is within walking distance, as was the case in the photo below. That way you can pack a bottle of wine, enjoying a glass while you're cooking!
Besides I am firmly of the opinion that there's little better on holiday than a barbeque on the beach. Finally, it's only natural that any barbeque is followed by toasting marshmallows. The cracking sunset was an added bonus.
lemon & paprika chicken kebabs
Print recipe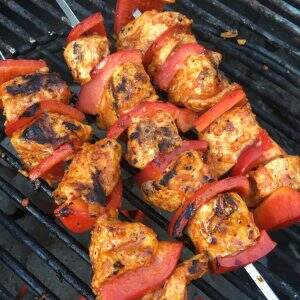 Ingredients
1 lemon (finely grated rind and juice)
1 tsp smoked paprika
2 cloves garlic (crushed)
2 tbsp olive oil
2 chicken breasts (cubed in bite-sized chunks)
2 red peppers (cut into bite-sized chunks)
1/2 tsp black pepper
salt
Directions
Place the juice and finely grated zest of a lemon into a bowl, along with the smoked paprika, garlic, olive oil and black pepper. Stir well to combine and add the cubed chicken. Cover with clingfilm and place in the fridge to marinade.
Ideally marinade the chicken overnight but if short of time a couple of hours will do.
When ready to cook, remove the chicken from the fridge and season with salt (do not add salt to the marinade as this will only draw all the moisture from the chicken). Thread the chicken onto a skewer, alternating with the red pepper.
Place the skewers on a hot barbeque turning regularly to ensure the chicken does no burn. Use any excess marinade to baste the chicken from time to time. This not only adds more flavour but also keeps the chicken moist.
Serve once the chicken is cooked through.
Alternatively, if cooking indoors, place the kebabs onto a baking tray and place under a medium grill. Turn the kebabs regularly to ensure cooked through.
Shared with CookBlogShare where you will also find recipes by fellow food bloggers.
7