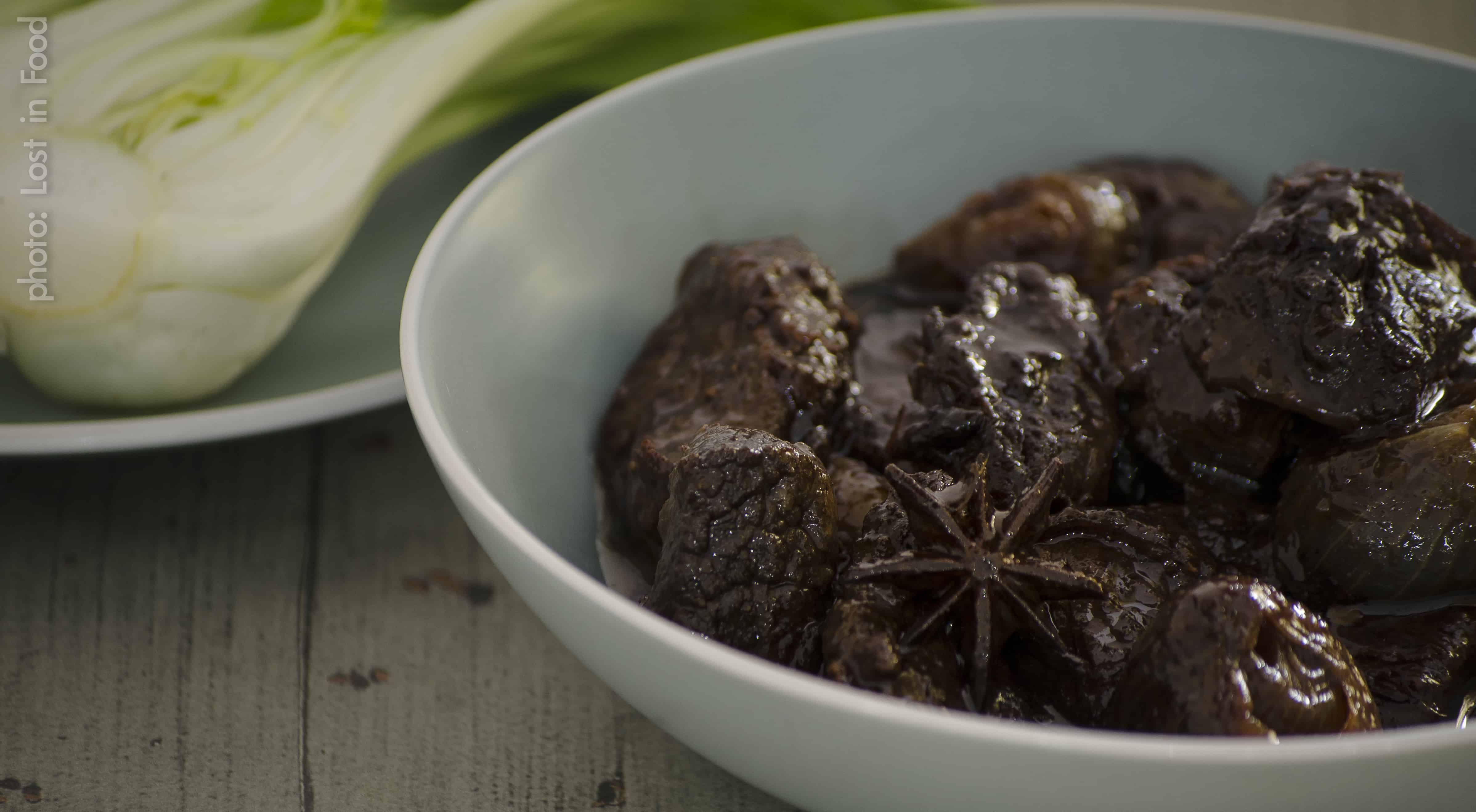 This quarter's challenge from The Store saw us coming up with a recipe for beef shoulder. Shoulder is full of meaty flavour and lends itself well to a slow braise, a great cut for the winter months when a warming rich stew is what you want. Coming up to the festive period this is an ideal dish, quick to prepare then a case of popping into the oven while you spend time with the family. It is also a recipe that can be easily multiplied if you happen to be feeding a crowd.
When we were first given the cut the obvious choice would have been a beef bourguignon or a goulash but there are plenty recipes out there already so we wanted to come up with something a bit different (although this cut would also work with our paprika beef recipe). The first thing that came into my head was of course spice, and specifically warm Chinese spices star anise, sichuan peppercorns, cinnamon. I love the tradition of a roast with all the trimmings but after a couple of days I need a spice hit. This dish works really well served with some steamed rice and our steamed bok choy.
asian spiced beef shoulder
Print recipe
Ingredients
750g shoulder steak (diced into 5cm chunks and season with salt & pepper)
2 tbsp sunflower oil
250g shallots (remove skin and leave whole)
1 onion (sliced)
4 cloves garlic (crushed)
5 cm fresh ginger (grated)
2 red finger chillies (de-seeded and sliced)
1 tsp ground 5-spice
3 whole star anise
5 cm piece cinnamon stick
1 tsp crushed sichuan peppercorns
1 tbsp dark soy sauce
2 tbsp light soy sauce
150 ml white wine
100 ml rice mirin
1 Knorr rich beef stockpot
300 ml water
Directions
Heat the sunflower oil in a oven proof casserole dish that has a lid. Add the seasoned beef in batches and take care to brown evenly over a medium-high heat. Remove the beef into a dish and set aside for later.
Turn the hob down a little and using the same casserole, brown the whole shallots over a medium heat. Once nicely golden, remove into a separate dish and set aside for later.
Add more sunflower oil to the casserole if necessary and over a medium heat add the sliced onions and saute for 3-4 minutes before adding the garlic, ginger and chilli. Continue to saute for a further 2-3 minutes. Add all the dry spices to the pan and cook for a further minute, stirring the mixture to release the aromatics in the spice.
Add the dark and light soy sauce, white wine, rice mirin, beef stock pot and water to the casserole dish and stir to combine all the ingredients. Return the beef to the casserole along with any juices from the plate.
Cover the casserole with a tight-fitting lid and place in a pre-heated oven at 150CFan and cook for 2 hours, stir the casserole half way through.
After 2 hours remove the casserole from the oven and stir in the shallots that were browned earlier. Put the lid back on and return the casserole to the oven for a further 30 minutes. If you think the sauce is looking a bit thick then add a little water at this stage. Once cooked serve with steamed rice.
To serve you may wish to reduce the sauce. To do this remove all the meat and vegetables from the casserole and place the sauce over a high heat to reduce for 5 minutes, or until you achieve a consistency you like. Return the meat and vegetables to the casserole, mix through and serve with some steamed rice.