Our second brunch dish of the week was inspired after our recent visit to Piggery Smokery, who kindly sent us home with some very generous samples of their bacon. Looking through the produce there was one bacon that I knew I had to cook, Pondicherry Pi with a hint of Indian spice about it.
After some contemplation I decided I was going to do a baked egg dish, making a very simple spiced tomato curry to start off with. Bacon, egg and tomato with an Indian Spice twist. I love Indian food, I could live on curry and all things spice, so I reckon this is probably about the best brunch dish I've ever come up with. Aside from being really tasty, we reckon this would make the ideal hangover brunch, perfect for those that have overindulged the night before! Of course we would never do that!
pondicherry pi curried baked eggs
Print recipe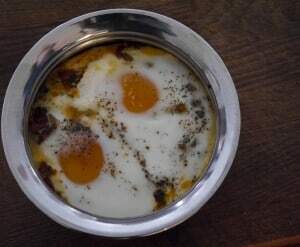 Ingredients
2 rashers pondicherry pi back bacon
1 dsp sunflower oil
1 banana shallot (finely diced)
1 clove garlic (crushed)
1 red chilli (de-seeded and finely chopped)
1 cm root ginger (finely grated)
1 dsp coriander leaf (chopped)
1 medium sized tomato (diced)
1 pinch ground turmeric
1/2 tsp ground cumin
1/2 tsp ground coriander
1 tbsp natural yoghurt
2 large free range eggs
salt & pepper
Directions
In a hot dry non-stick frying pan, fry the bacon for a minute on each side and then transfer onto a side plate till later.
In the same frying pan add the sunflower oil then over a medium heat cook the shallot, garlic, ginger, chilli and coriander for 3-4 minutes until soft. Add the diced tomato to the pan along with the dry spices, salt and pepper, continue to stir for a further 2 minutes.
Meanwhile cut up the slightly cooled bacon into bite-sized pieces and add it to the tomato mixture and take off the heat. Spoon the mixture into an oven proof dish and add the spoonful of natural yoghurt.
Take a deep-sided oven proof tray and half fill it with boiling water. Place the oven proof dish into the tray and make two small dips in the yoghurt, take care to break an egg into each of the dips, you don't want the yolk touching the side of the dish.
Gently place the tray into the oven and bake the eggs for 20 minutes at 160CFan. Serve immediately.
Note
This recipe is for one person but can be easily multiplied depending on the amount of people you are serving.
We have added one chilli, however feel free to alter to your own taste.
3