Risotto is a favourite family meal in our house, its something my eldest daughter often asks for on her Birthday, its simple to cook but always a treat. Our wedding reception was all about the food and the vegetarian option on the day was a tomato risotto which my sister (who incidentally is not vegetarian, she just loves risotto) ordered and she still speaks about today as "the best plate of risotto" she's ever eaten! Of course my favourite food is the humble tomato, so this recipe is risotto perfection for me.
Our recipe states to use a tomato stock, but a vegetable stock will suffice, we just happened to have enough tomato consomme left over after a recent Supperclub and we knew it would pack a real punch of tomato flavour. However, we would recommend a homemade stock as a good stock will always give your risotto more depth of flavour, perhaps adding 500ml vegetable stock and 250ml tomato juice.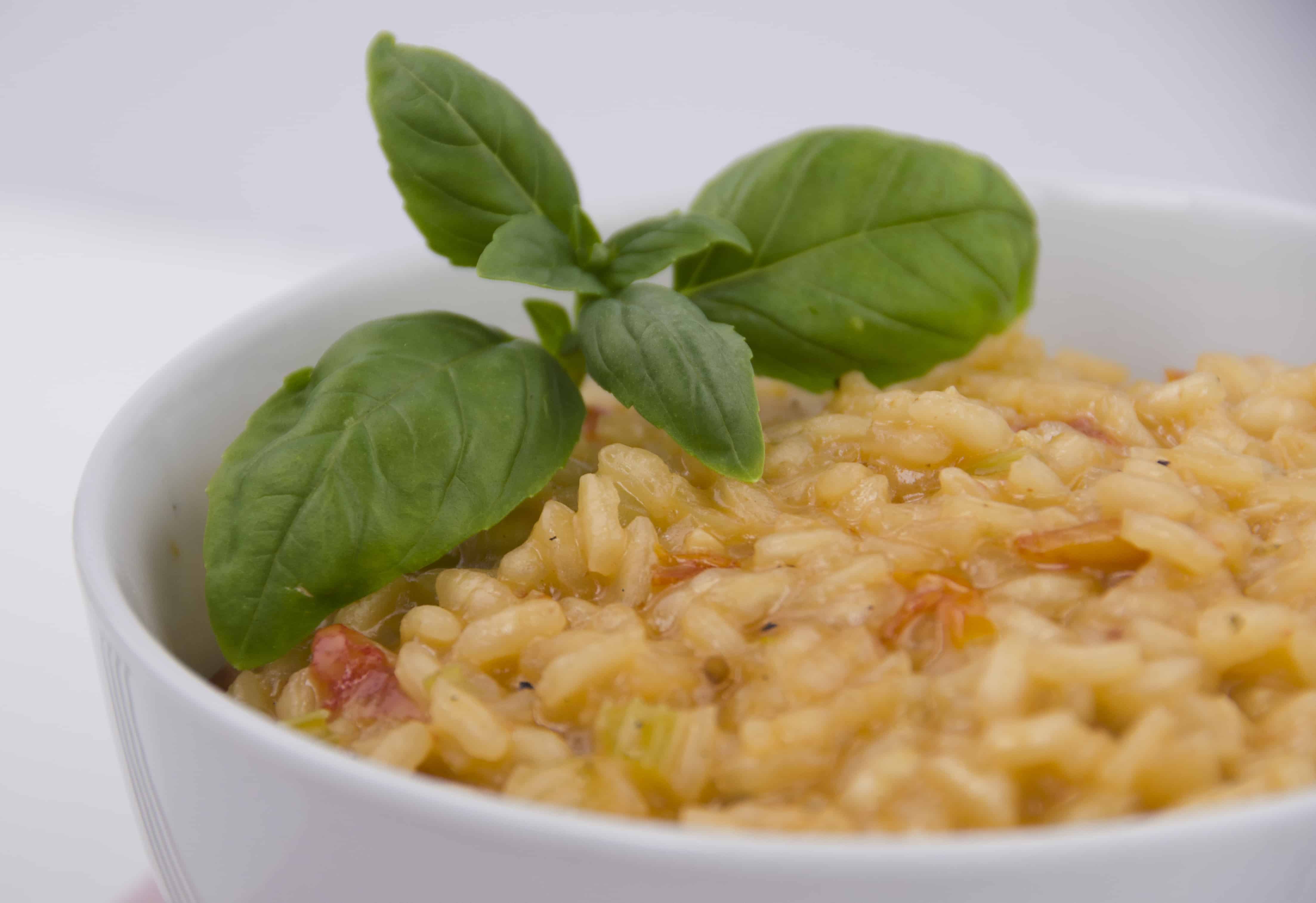 Critical to a good risotto is to stir the rice constantly as it is this that releases the starches in the rice giving the dish its creamy consistency. However for someone like me who can't sit still, standing stirring risotto really is a great feat of patience. Worth it all of course for that flavour packed plate of food at the end.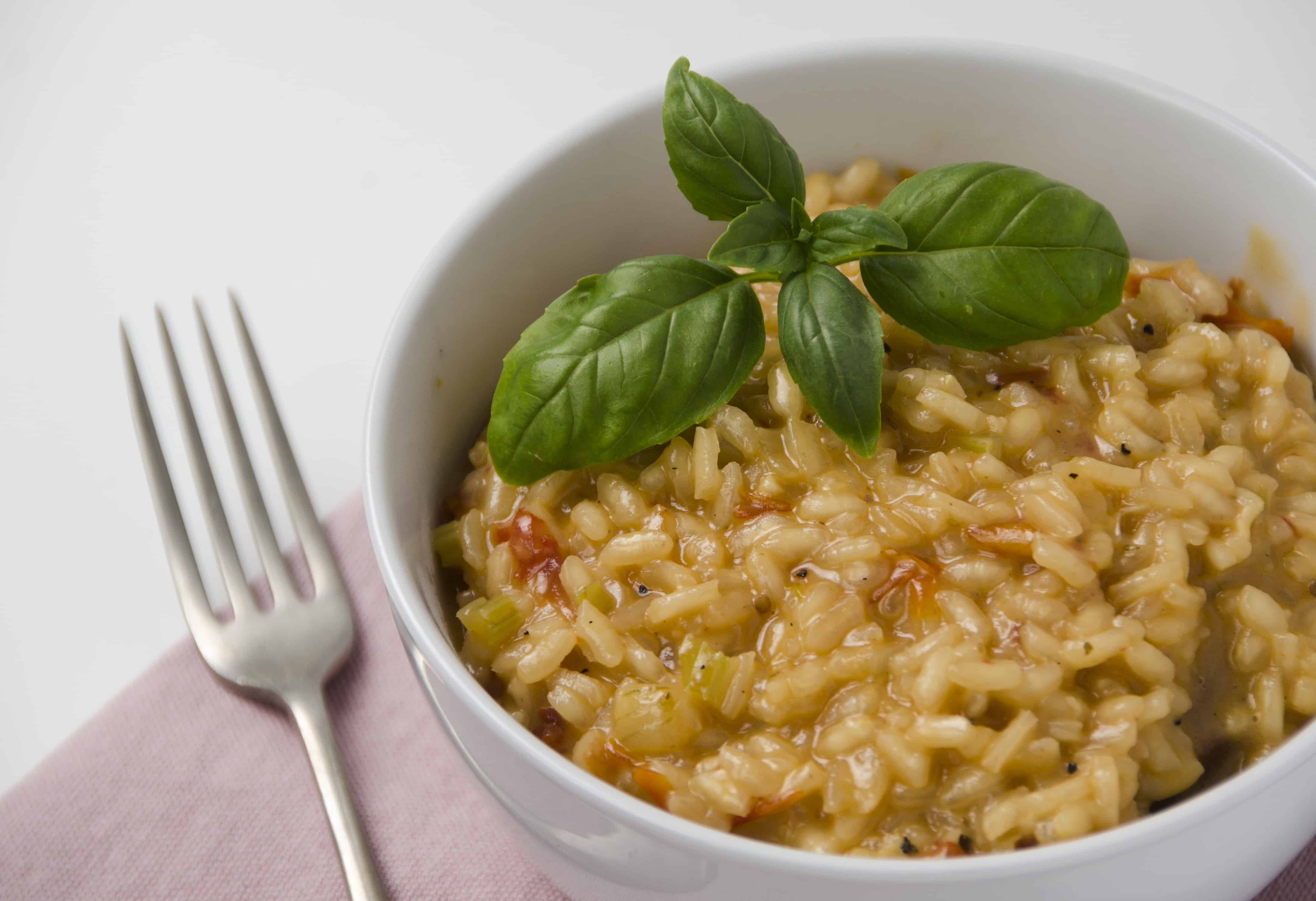 risotto with confit tomato
Print recipe
Ingredients
1 tbsp olive oil
25g butter
1 small onion (diced)
1 stick celery (diced)
2 cloves garlic (crushed)
125 ml white vermouth (or substitute white wine)
160-200g risotto rice
750 ml tomato stock (or substitute 500ml vegetable stock & 250ml tomato juice)
6-8 sunblush or confit tomatoes (chopped)
50g mascarpone cheese
salt and pepper
basil to garnish
parmesan
Directions
Heat the olive oil and butter in a large saucepan over a medium heat, add the onion and celery and saute gently for 5 minutes, taking care to soften but not colour the vegetables. Add the garlic to the pan and stir gently for a further minute.
Add the rice to the pan and continue to stir for a further 5 minutes. Do not leave the pan unattended otherwise the rice will stick.
Turn the heat up and pour the vermouth into the pan and stir until the wine has reduced. At the same time place the stock into a separate saucepan over a low-medium heat to keep it warm.
Turn the heat in the frying pan down to low and add a ladle of stock to the rice mixture, stirring all the time. Continue to add the stock a ladle at a time, reducing the stock after each ladle. Do not leave the pan but stir continuously, this will release the starches in the rice to give a creamier risotto.
Once the stock has been added and reduced, this should take approximately 25-30 minutes, the rice should be al-dente and have a nice bite to it (do not over cook the rice).
Stir in the mascarpone cheese and check the risotto for seasoning. Garnish with Basil and serve immediately.
We've linked this recipe up to Cook, Blog, Share. If your looking for some great recipes from other food bloggers make sure you check it out.